Adding/Removing Family Members
This area allows family members to be recorded within the system, for bill paying, appointment setting and mailing purposes.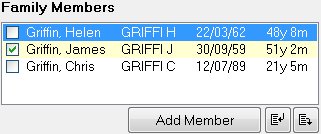 The Family Members information can be found in the bottom right of the Patient Details screen.
When changing the address for a family, a prompt will appear asking if you would like to change all family member details. (You can opt to not do this if family members do not all share the same address).
Click the Add Member button to add another patient as a family member.
Highlight a patient name and use the

button to add another family member to the list, or the

button to remove them from the list.
For booking family appointments see: Booking Family Appointments