Configuring Automatic Appointment Reminders

Note: Appointment reminders will only work if set for a future date (24 or more hours in advance); they do not function if set today for today.
If a patient has more than 1 appointment on the same day they will only receive a reminder for their first appointment. Admin users can go to Configure, Settings and change the setting email.sms.reminder.ignore.same day appointment to "1" which will then remind the patient of all appointments even if some fall on the same day.
SMS Replies are designed to function with automated reminders sent to Patients. The software links the pending appointment, the automated SMS Reminder, and the patient's SMS Reply.
However, if you manually contact single or multiple patients by means of SMS reminders, EXACT has no automatic means to link your sent SMS Reminder and the patient's SMS Reply with a pending appointment.
So, if you manually create SMS Reminders, EXACT will always send the consequent SMS Replies to the Manage Replies List and to the SMS Replies Tab, for you to manually confirm who this SMS is from, what it relates to, and what actions to take.
Configuring Automatic Reminders and Replies
To specify the automated reminders and replies strategy with up to 3 staggered actions, for SMS Replies configuration
This is an excellent and easy-to-use tool for reducing FTA rates as well as providing a way of reminding patients of their appointment time, proving link's to patient portal forms and important information.
To access the configuration go to Configure->Automatic Appointment Reminders.
Click Next twice to open the Automatic Appointment Reminders window: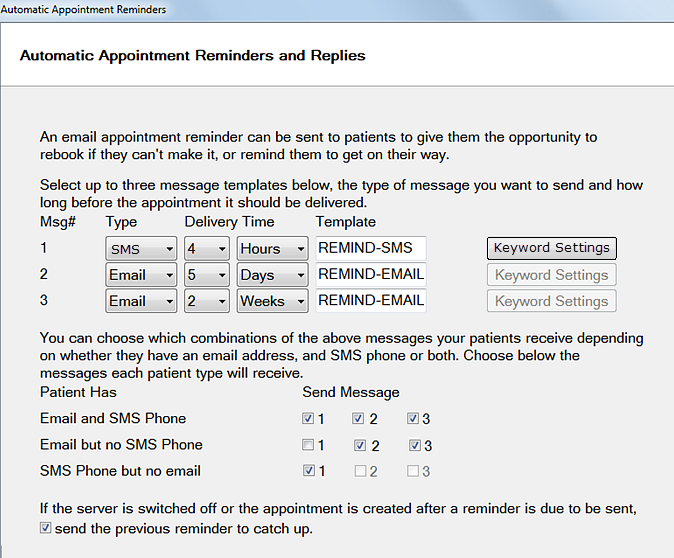 You can setup up to 3 automated messages. Setup the following:
Type - Choose whether the message will be an SMS or email.
Delivery Time - Choose the time period (Hours/Days./Weeks) and the number of that time unit.
Template - Choose the email/SMS template to send. More information on how to configure templates can be found here [add template article later]
Select or create a template:
Click in the Template field and use the List button to select a template.

If you select Email in the Type drop-down, the List button will show email templates, and if you select SMS in the Type drop-down, only SMS templates will be listed.
Configuring Automatic EasyPost Appointment Reminders
We no longer recommend using the automatic reminders feature for sending Easypost appointment reminders and now recommend doing this via Marketing/Campaign Manager.
The option however does still exist and ticking the box, selecting the number of weeks before and which letter template & list of patients to use is all that's required.