Contact Consent Preferences Audit
This is viewable by Administrator-level users only.
Many countries have regulations around direct marketing, so it is important that EXACT can track changes to patient permissions that may potentially cause patient dissatisfaction.
For this purpose the Preferences to Contact Patient window features a Contact Preferences Audit tab, accessible only to Administrator-level users: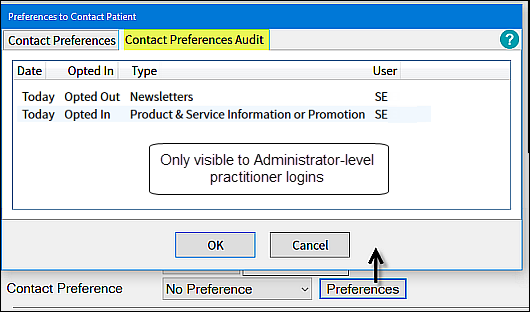 EXACT tracks practitioner Contact Preferences actions in this audit trail.
Audit actions are only recorded for checkbox changes (ticked or un-ticked), so if practitioners opt to ignore the prompt for action, or if practitioners simply Cancel out of the Contact Preferences window without clicking anything, they will incur no audit record.
Clinipad "Contact Consent" automatically ticks all checkboxes in the Preferences to Contact Patient window, so these changes are also tracked in the Contact Preferences Audit.