EXAMINE Pro x-ray grading
After an x-ray has been processed in EXAMINE Pro, the user will be prompted to save the image when exiting the acquisition screen. It is at this point the x-ray grading can be set to be used for auditing purposes.
The options available will be User, Grade and Image Type. Click on the selection box to display all available options, selecting the required option from the list.
X-Ray dosage information
This same window, has the option to enter dosage information for the x-ray.
The latest EXACT version will include the dosage information displayed in the report.
Note: If the dosage has not been altered by the user, the default values will be used.
Tip: The dosage settings remembers the last settings entered, using these as the default settings.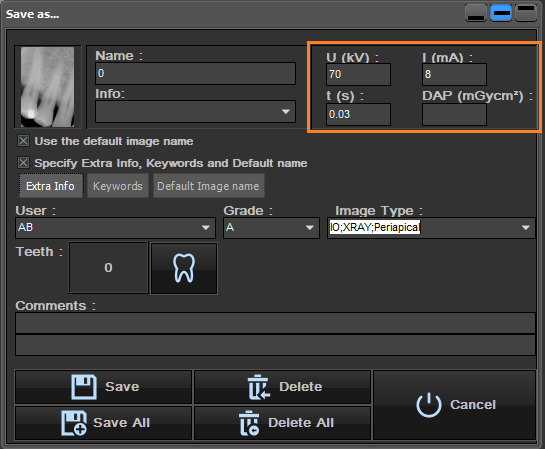 This information can be edited on existing x-rays.
Right-click the image thumbnail in the image library.
Select Image Properties.
This will open the screen displayed above.

User not available for selection
If a user is not available in the drop-down list, they will need to be configured in EXAMINE Pro. Find out how to add a user in the help article: EXAMINE Pro adding/editing users.
Incorrect grading options
If the grading options are incorrect, they will need to be configured in EXAMINE Pro. Configure your grading options with the help article: EXAMINE Pro configuring x-ray grading