The report runs through all patients and checks to see if they have a course of treatment that matches the above criteria (in the date range and for the providers on the Contract Number). For patients who do not have a matching course, it checks to see if they have one of the contracted providers as their dentist. If they do they are added to the 'not seen' count, using their age as at the end of the date range.
Where a matching course is found, the UDAs for the course are determined, and added to the UDAs claimed count using the patient's age as at the acceptance date of the course.
If the BreakDown by Performer check box is ticked then the rows starting with '-' are shown (if this checkbox is unchecked, they are skipped). These rows are calculated using the more detailed band information found on the FP17.
Domiciliary and Sedation counts are also determined from the FP17.
The patient charge figure is also calculated from the FP17.
NOTE: It does not matter whether the charge has actually been collected from the patient.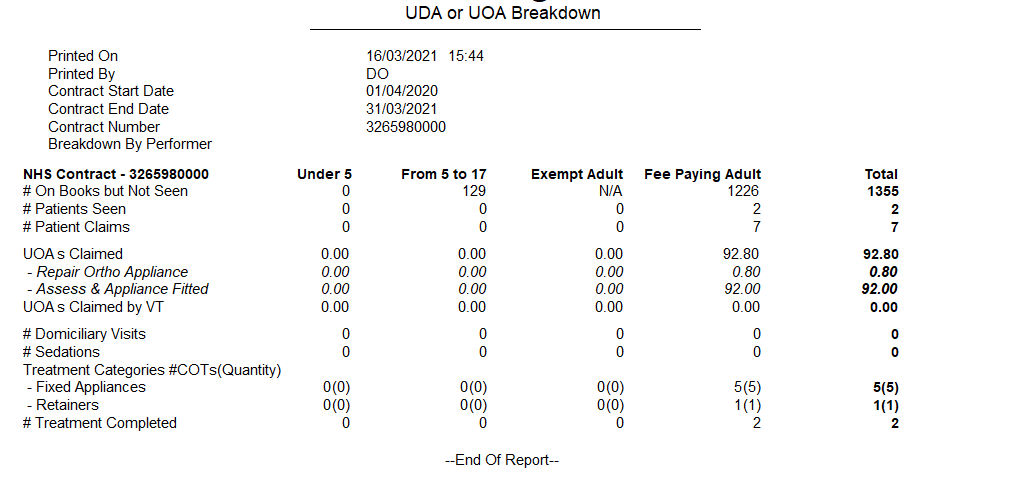 For the Treatment Categories where a quantity is recorded, both the number of claims and the quantity will be shown in each column, for example, "4(6)". The number outside the bracket shows how many COTs included the item. The number inside the bracket shows how many of the items were done. For example, 4(6) indicates that 6 items were done across 4 COTs.

This report can be run from either the NHS or Reports option in the Administration menu.
Select Administration > Reports

Double-click the UDA or UOA Breakdown report to open the Print UDA or UOA Breakdown window:

The date range (inclusive) specified by the Contract Start Date and Contract End Date fields is set by the Contract Number, and determines which COTs are included in the report:

All NHS courses with a completion date in the range are included.

Patient's ages are determined as at the treatment start date.

Incomplete COTs are included based on their start date.

The Contract Number determines which patients and claims are included in the report. To select a Contract Number:

Type a known number, or

Scroll by means of the Up/Down scroll arrows, or

Click the List/Select button and choose a Contract from the View NHS Contract Numbers window:

Breakdown by Performer: Check (tick) this checkbox for a detailed breakdown of the figures by Performer in the Contract specified, or leave unchecked for a general breakdown.

Click the OK button.