This report is designed to show how payments received by the practice are divided into NHS, Private, Stock item and Deposit payments.
Select Administration > Reports.

In the Reports desktop, double-click the Earnings Summary report to open the Print Earnings Summary window:

Specify a Query Template in the Select Patients field, either by scrolling up/down or by means of the View Query Templates window:

(from here you can also edit Query Templates or create new ones by means of the +1 button).

Specify Provider/s as follows:

To print an Earnings Summary report for the entire practice, leave the Provider(s) field empty

Select an individual provider by means of the scroll buttons .

Specify a combination of Providers by means of the Multiple button .

Define the date range for the report by means of the From and To date fields.

Show Details:

Tick (select) this checkbox to provide details for the receipts and invoices that make up the report.

Leave this checkbox unchecked to show only a summary of the payments and the payment methods, dividing them into types of payments.

Click Print to send the report to the printer, Preview to preview on screen and then print from the Preview screen, Email to email a copy of the report to an email recipient, Export to create a file readable in Excel, or Cancel to return to the previous screen.

The example below shows an Earnings Summary report for the entire practice and all Providers, in summary format (with Show Detail not selected):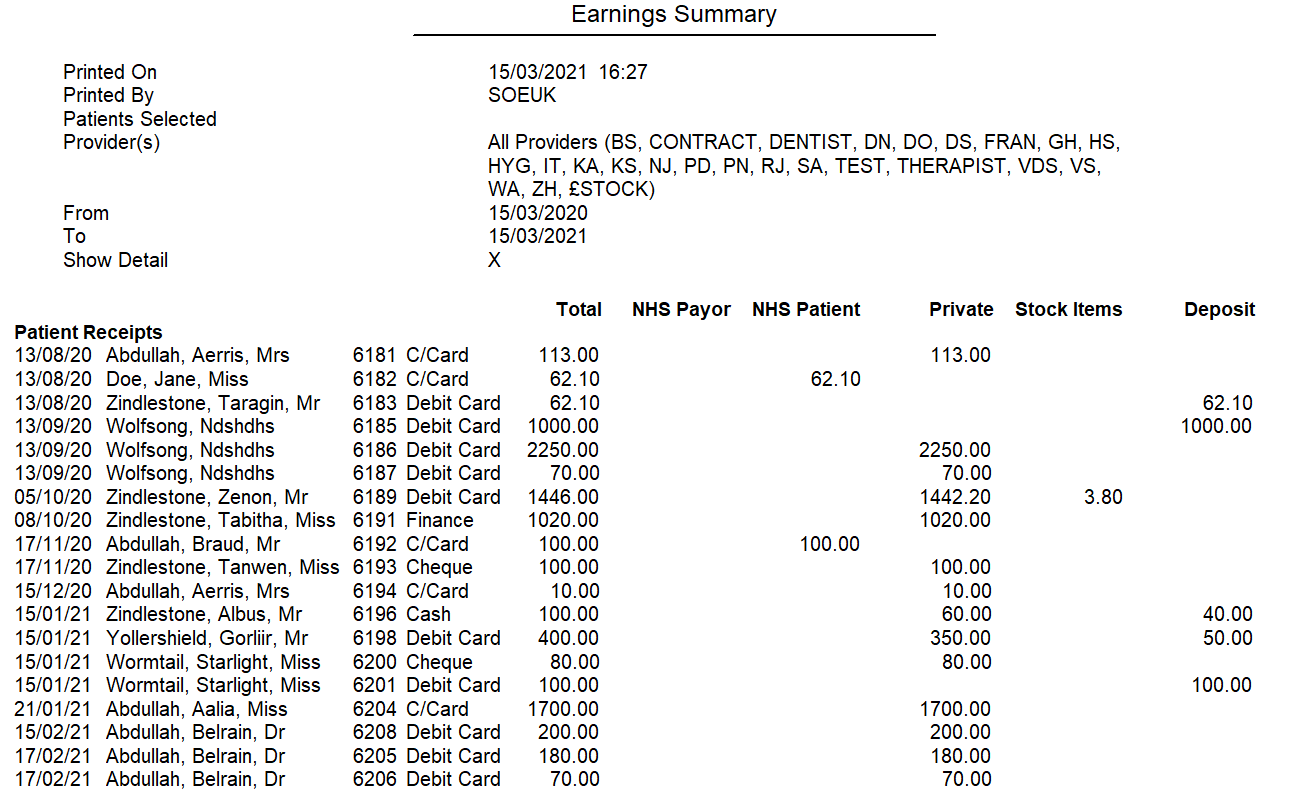 Interpreting the Earnings Summary Report
With Show Detail checked (ticked):
The report is divided into columns:
Patient Receipts

This column lists; the date of the receipt/payment and the patient's name. The next column shows the receipt number along with the payment method used.

Total

This column shows the total value of the receipt.

NHS Payor

This column displays the payor (NHS) portion.
For most of the UK The NHS Payor for England is left as a legacy column.
Dentists now receive UDAs instead of monetary value which hold a variable amount per practice.

NHS Patient

This column shows the patient's portion of the receipt that was for NHS treatment.

Private

This column shows the portion of the receipt that was for private treatment.

Stock Items

This column shows the portion of the receipt that was for stock items.

Deposit

The portion of the total that was unallocated, and therefore is considered as an advance payment.

Summary Section

This area summarises all of the receipts into: Cash, Cheque, Visa etc, and also into NHS invoices and adjustments. Each payment method is then divided further into categories showing NHS payments, private payments, stock item payments and deposits.