NHS List Courses Of Treatment
The List Courses of Treatment screen is accessed from the NHS button or Administration menu (Administration > NHS > Courses of Treatment) and is a useful tool that allows you to view details of current course of treatment for your patients.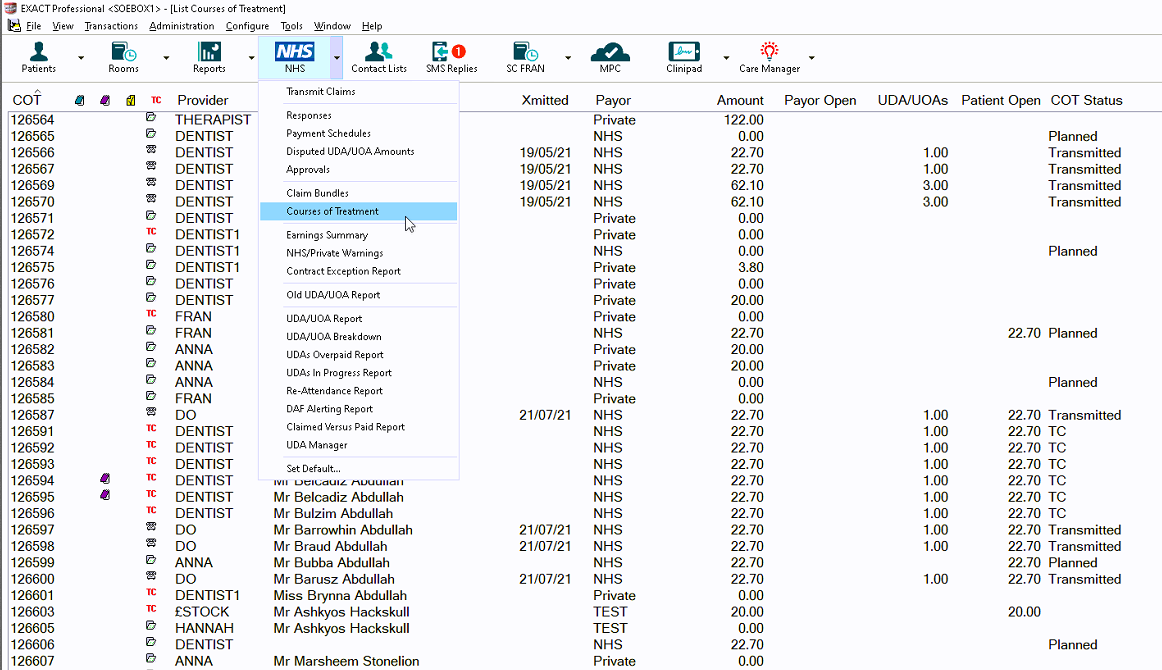 Column

Details

COT

The COT number. Click on the column heading to change sort order from ascending to descending or vice-versa.

If there this icon in this column, it means there is a Claim Note for this course of treatment.
To read it, hover the mouse cursor over the icon to display it as a tool-tip, OR double-click the COT line to open the View COT window, and select the Claim Notes tab.

If the COT prompted the NHS Re-attendance alert and notes were entered this icon will show. Hovering over the icon will show the notes.

This column has an icon in it if the course is a prior approval. The colour of the icon shows the approval status. Yellow is in progress, Green is approved, Red is not approved.

The Treatment Completion column shows one of three status icons:
COT still open, Treatment completed and Transmitted (Phone icon).

Provider

This shows the ID of the provider who treated this patient.

Patient

The patient's name.

Xmitted

When the COT claim has been transmitted to NHS Dental Services, the date is recorded here.

Payor

The payor for this Course of Treatment (NHS or Private).

Amount

This displays the amount payable for the COT.

Payor open

The amount still payable by the payor.

UDA/UOAs

The number of UDAs or UOAs for the COT will be displayed here.

Patient open

The amount still payable by the patient.

COT Status

The current status of the COT is displayed in this column.

Confirmed UDA/UOAs

The total confirmed UDAs/UOAs are displayed here.
Functions/Features in the List COT Window
| | |
| --- | --- |
| Function/Button | Details |
| View Transactions | Opens the patient View Transactions window |
| More Information | Opens the 'View Course of Treatment' window |
| Print List | This prints a list of Courses of Treatment for one or more providers. |
| Dial | Use this function to contact a patient by phone; if you have automated dialling set up, it will place a call to the patient. Call details can be recorded in the 'Call Patient' window. |
| Send Document | This allows you to create a patient letter or document to send to the current patient. |
| Send Email | Email the selected patient, using either an email template, or a message created from scratch. A copy of the email message will be saved and can be viewed in the patient's Contacts tab. |
| Send SMS | Send a text message to the patient's cellphone, using SMS. |
| Print Label | Select this option to create a mailing label using the current patient's details. |
| Claim Notes | This allows you to create a Claim Note to attach to the current COT. |