What is a Payor? A payor is a scheme that will fully or partially subsidise patient treatment. Examples are NHS, Denplan & Practice Plan
Go to, File, Payors to add, edit EXACT's payors
When would I use a Payor? A payor would be used when the patient charge due under the scheme differs to the practice's Private fee structure.
What are some examples of typical payors a practice might set up?
Insurance payors such as HIC.

Discount Schemes – such as arrangements with corporates to treat their staff for a reduced fee.

Public Health payors that subsidise patients on low incomes.
File > Payors

Click the +1 button to open the Add Payor window:

Complete the fields in the Add Payor window:
Code

Enter a unique code for the new payor. This should be consistent with payors already entered and is usually an abbreviation or acronym (e.g. 'HIC' for Health Insurance Commission).

Name

Enter the payor's full name.

Address

Enter the payor's billing address. This is the address that will appear on claims.

Payor Type

Select the Payor Type code from the drop-down list. This will determine payor functionality - see Set Payor Fees Calculation Method for further information.

Use Fees of

If this payor uses the same fees as another existing payor ( i.e. a different payor but the same fee schedule), click on the button to select that schedule.

For other fee plans, see Set Payor Fees Calculation Method.

Inactive (checkbox)

The 'Inactive' checkbox is used to disable a selected payor, either temporarily while setting up the payor, or at a later time.
Inactive payors cannot be selected in the Patient Details or chart window.

Course of treatment Colour

Use the Course of Treatment Colour option to assign a unique colour to the headers of Treatment Plans for this payor in the 'Chart' tab. This also helps identify the payor within the system. Payor colours are only used if the Patient File is configured to display treatment plan colours this way.
Select Optional Services
Click this button to select optional services to be charted as part of a course of treatment by the current payor. If the courses selected are missing when the course of treatment is charged, the user will be prompted to either add or ignore them. In addition, you can set up optional services to be automatically charted when a course of treatment is created for that payor, in a similar way to Quickplans.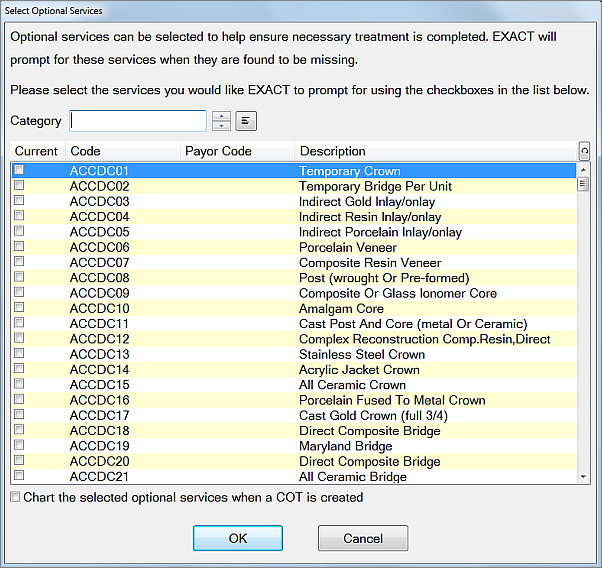 (NZ only) Processing Payor Payments
See Processing Payor Payments for procedures with Non-MoH payors such as ACC, WINZ, BAYCORP, and for Ministry of Health payors, such as OHSA, SBD, and OHSA Exceptional Circumstances.