Understanding the Tooth Chart
This area (Odontogram) displays a graphical representation of the teeth in the patient's upper and lower jaws, including Base Charting, Historical Charting and Planned Treatment. The Tooth Chart can be displayed in two dimensional or via 3d charting. This guide looks at 2-dimensional tooth charting.

The tooth chart has 32 teeth (8 per quarter) and 20 Deciduous teeth. Each is split sectors of the tooth.
Planned treatment is blue by default, this colour can be customised by double-clicking a Course of Treatment bar:

Completed treatment is defined by each service.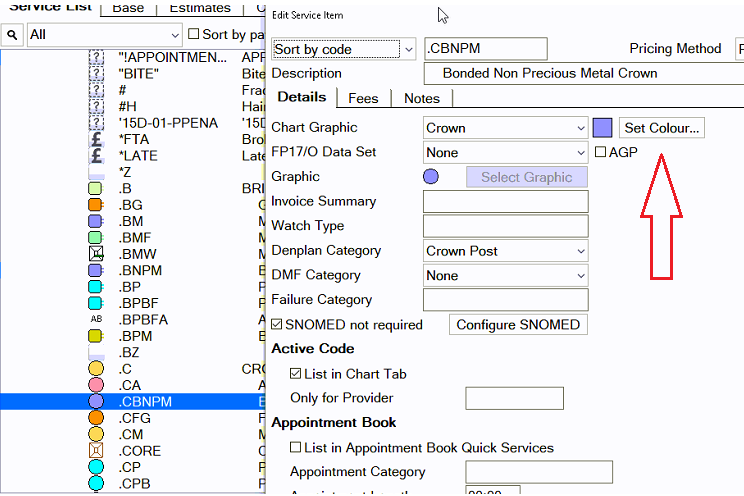 Permanent / Deciduous Switch
The 2D Tooth Chart can be viewed in three modes. Click on the 'Permanent/Deciduous switch' at the left centre of the Tooth Chart to change the view to either Permanent, Mixed or Deciduous. The default selection for new patients can be changed in Configure, Practice Settings. EXACT 'remembers' the dentition that was last displayed, and will appear this way when you next open the patient's record.
Permanent, Mixed & Deciduous Dentitions are displayed as follows: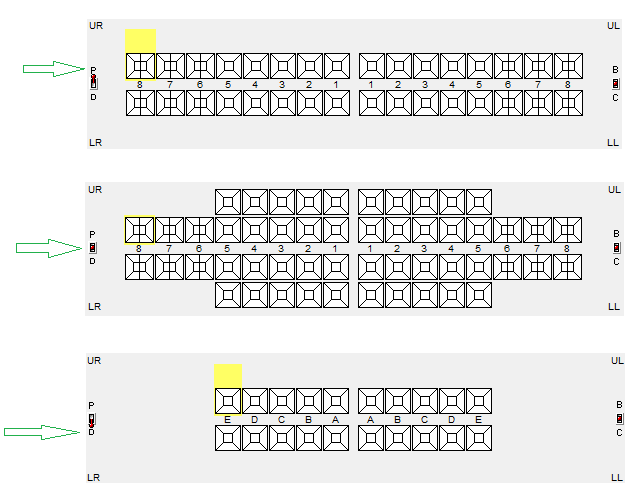 Base / Current Chart Switch
This switch to the right of the Tooth Chart filters to one of 3 options.
Base charting only, All charting or current charting (shown on open courses of treatment).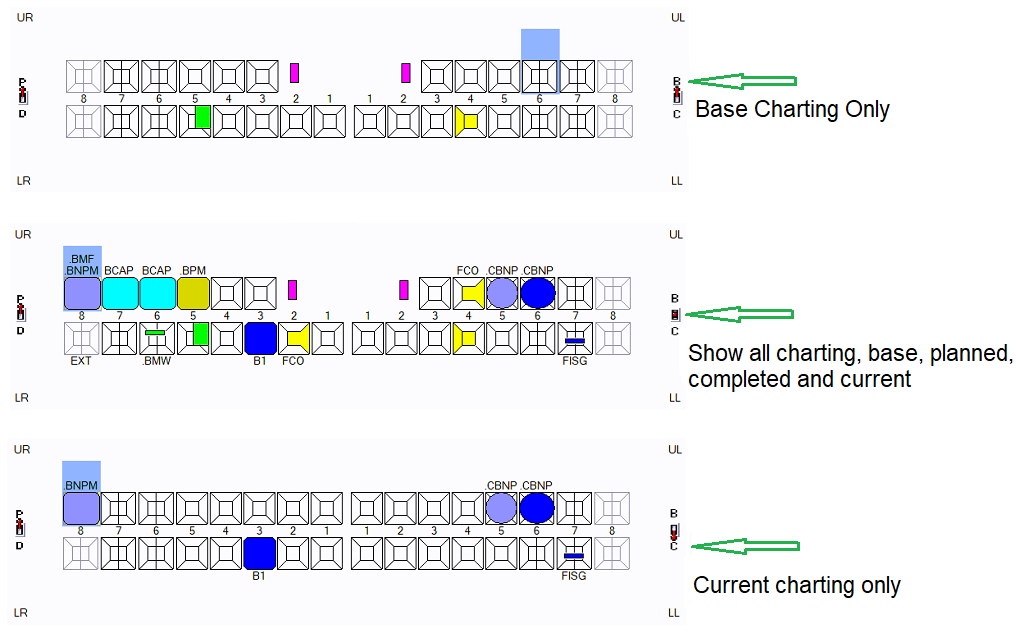 To change the position of the switch, click on it with the mouse; it will then cycle between the various positions.
Hovering Over Teeth
The Quick Chart Menu appears whe you hover the cursor over the chart.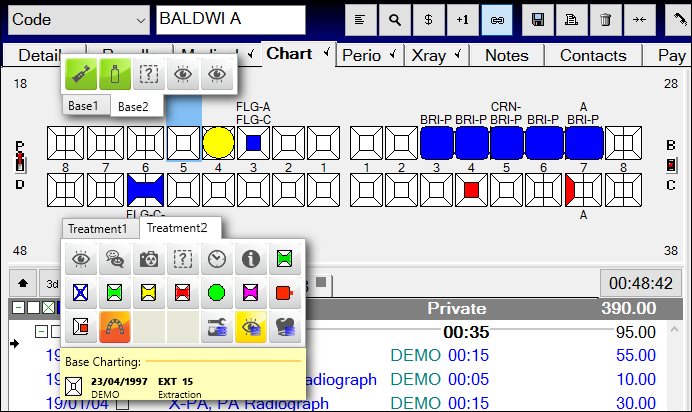 The Treatment menu displays for the current tooth, listing both Historical and Current Treatments: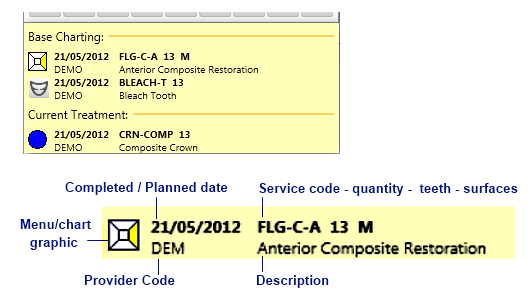 Resizing the Tooth Chart
The Tooth Chart can be resized to enable the size of the teeth to be increased. The contents of the 'Chart' tab will then be resized to reflect the changes made.
To resize the Tooth Chart
Hover the mouse pointer in the grey area either below or to the side of the chart (UL).

A symbol will appear, as shown in the example below. Click on this symbol, and keeping the left mouse button pressed down, drag until you achieve the desired result.

The Tooth Chart will continue to be displayed this way until changed again. However, the selection is individual to the computer, so the chart can be displayed differently in each treatment room if required.

To return the Tooth Chart to its default setting, hover the mouse arrow again until the symbol appears, and drag using an upward motion.