There are three types of medical alerts in EXACT that can be set to draw a user's attention.
Each of these is displayed as a flashing icon in the upper right-hand corner of the screen, to alert the user to one of the following circumstances:
| | |
| --- | --- |
| | A patient's medical condition that the dentist or hygienist needs to be aware of. |
| | A patient that has some potentially infectious disease or condition. |
| | The current patient needs their medical record updated. |

Medical Condition Alert
| | |
| --- | --- |
| | The 'red cross' will be displayed if the Med Alert checkbox within the 'Medical' tab has been ticked. Holding your mouse over the icon will display a Tool Tip with the patient's medical information. |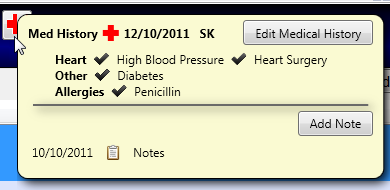 If both the medical condition alert and infectious alert are set on the patient's record, and the user's settings are configured to flash alerts, the alert will flash alternately in yellow and red.


Infectious Condition Alert
| | |
| --- | --- |
| | The 'yellow cross' is displayed if the Infectious Alert has been ticked in the 'Medical' tab. As with the 'red cross', hovering the mouse pointer over the icon will display information regarding the Infectious Alert. |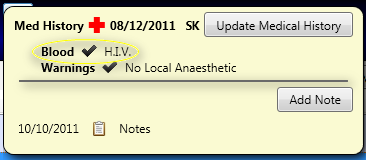 If the patient has both the Medical Alert and Infectious Alert ticked the crosses will flash, alternating between red and yellow.
To Respond to the Medical Update Overdue Alert
| | |
| --- | --- |
| | If the Medical Alert symbol shows a document image, the patient's medical record requires updating. |
Open the Medical Tab.

Update the medical questionnaire used by the practice. (Either the preset questionnaire or the 'Med Questions' custom screen).