The Watch tab provides a condensed treatment history of certain types of treatments (for example X-Rays) as Watch Types.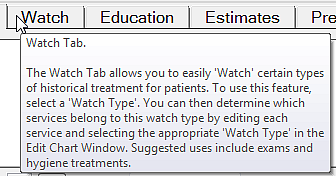 Once set up, all X-rays taken for a particular patient can be listed in the Watch tab in date order. This saves time when checking to see when the last X-rays were taken for a patient. Watch Types require initial set up in the Service File.
Setting up a Watch Type
This requires the appropriate security rights to add and modify Service Items.
Go to Configure, Services to open the List Service Items window:

Type in the CODE at the bottom to search for the service you wish to add the Watch Type to.

Double-click the service item to open the Edit Service Item window at the Details tab

Left Click inside the Watch Type field and then click on the lined button that appears to open the View Watch Types window (see image below)

Add a new Watch Type by clicking "+1". Enter a description on the next screen and click OK then OK again to close the Edit Service Item window.

Repeat this process for all other x-ray related services to complete the setup.
To View Watch Types
Once a 'watched' type of service is provided to a patient, that Service will be listed in the patient's Watch tab.

To view these, open the Watch tab and use the Watch field at the bottom of the tab to select that Watch Type: