Configuring service categories
Making a service category visible
This is a per-user setting.
Click the spanner icon under the Service List on a patient's Chart Tab and choose "select which categories you see in the service list and the order they are shown" and click "Next".

Left-click to highlight the available category and then double click or use the arrows to move to the selected categories section.

Use the Up and down arrows to change the order or the remove item icon to remove any categories you no longer require.
Adding/Removing Multiple Services in Service Categories
Click the spanner icon under the Service List on the patient's Chart Tab and choose "Create new service categories or edit existing ones and decide which services they display" and click "Next".

Click into the Category box to reveal the arrows and category selection button.
Select the category you wish to add/remove services from/to and begin ticking/unticking from the list of services.

You can sort by payor code (useful for NHS codes) and push selected services to the top to easily see what's currently selected.
Creating service categories
Right-click and

 

e|d

 

to edit any service from the patient's Chart tab or double click a service in

 

Configure

 

-

 

Services

 

to open the edit service window.
Click the Add/Assign category button to reveal the service category list.
Now click

 

+1

 

to add a new service category.
Type in the name of the category and whether the service category and the services within it are to be used for base charting, regular treatment or both.

Click

 

OK

 

and this new category will now be available for selection.
Adding one Service to a Service Category
A Service can belong to more than one category.
Right-click and select Edit on the service from the Patient Chart Tab or within Configure > Services double click a service to enter the Edit Service window.
Click the add icon to the right of the 'Categories' field; this will open the 'View Service Categories' window: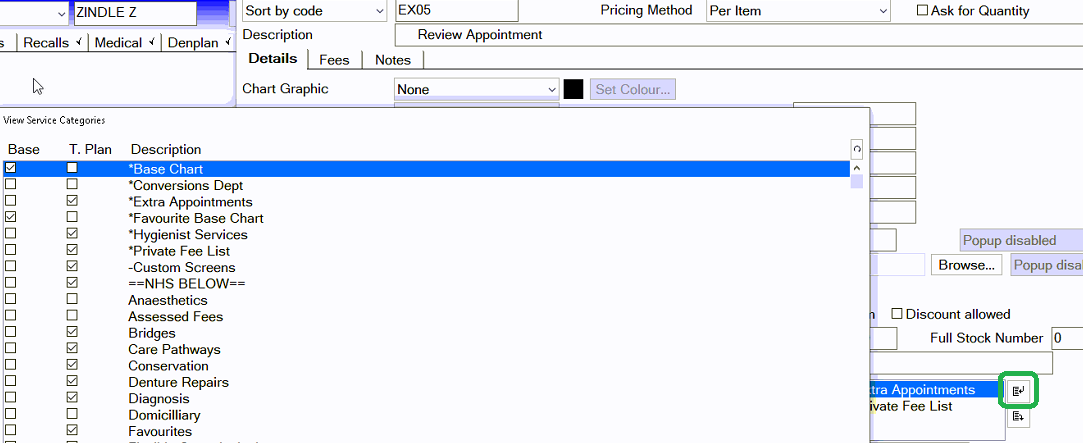 The tick boxes for "Base" & "T.Plan" indicate if this service category and its services are available for use for Base charting, Regular Treatment or both.
Left-click the service category to highlight it (default colour blue) and click "ok" to add the service to that Category.
Repeat for other categories if the service needs to be added to more than one.
Related Articles: