Creating an Intra Oral Pathology chart
The 'Pathology' tab of the Patient File provides the ability to create and maintain both intra-oral and extra-oral diagnosis pathology charts. It also records the pathology chart history.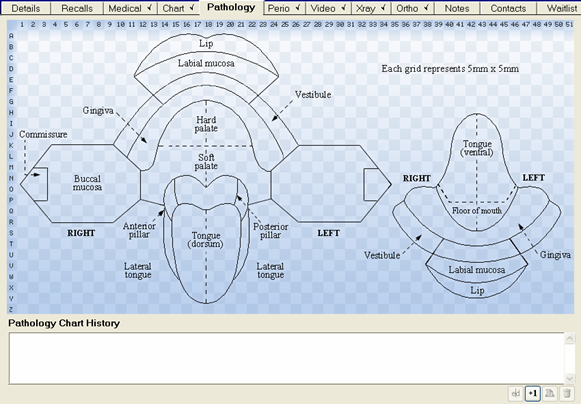 To enable the tab, go to Configure, Patient File and tick the "Enable Pathology Tab" box then log out and back into EXACT.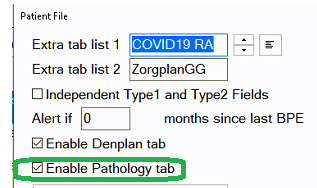 With a patient selected, click the

+1 button

at the bottom of the

Pathology

tab to create a new exam.
Select

Intra Oral Exam

and click the

OK

button.

This opens the Add Pathology Chart window.
Until you click the OK button none of the changes made in this session, whether adding or removing details, will be retained.
To chart Abnormalities in different colours:

Select a preset Abnormality category from the dropdown.
Click the Set Colour button.
Select a colour from the colour picker and click OK.
To paint standard dots of colour, set the dot size in mm between 1 and 25, and ensure that the Remove Selection checkbox is checked (ticked), then click to paint dots on the chart.


To paint variable-sized dots and ovals of colour, un-check (un-tick) the Remove Selection checkbox, then either click for a dot at the set size or drag to form an oval shape.


Repeat this process for all required abnormality categories.
If you make a mistake and need to remove a shape, either:

Click the Undo Last button, to remove the last shape added
Tick the Clear checkbox and then click and drag over the area to remove the shape.
Click Remove All to clear all shapes and markings from the chart.

Type explanatory Pathology Notes.
Make a Risk Assessment by checking one of the options:

Click OK to save the Chart.
Back in the Pathology tab the chart is listed and can be edited.