Teledentistry is the process of providing dental care/appointments via a phone or video call, initially introduced to allow remote triage of patients to determine it was safe and necessary for them to visit your practice.
Sign up with a teledentistry provider
This provider should support a 'waiting room' where you can see all the patients waiting, but they can't see each other. The provider should give you a URL to the waiting room that you can send to your patients.
For Example, Doxy.me provides a free service that allows any dentist to sign up and create a waiting room. Once you have signed up with the service they will provide you a URL to enter into Exact. e.g. https://doxy.me/exactwaitingroomtest
Your practice may sign up for one waiting room for all providers, or each provider can sign up individually to get their own room.
Implementing teledentistry in EXACT
Adding a providers link
Open the provider file and select the Appointments tabs. Paste the URL you copied from your teledentistry provider into the Teledentistry Link field.
Repeat this step for all providers.
This step is required for the Teledentistry merge field to populate within automatically generated email reminder templates.

Appointment reminder links
Set up a smart section to include in appointment reminders. This can be found in the appointment reminder wizard via Configure - Automatic Appointment Reminders.

Add the smart section ([section.EmailTeledentistry] or [section.SMSTeledentistry]) to your appointment reminders templates.
Booking appointments
Book appointments with the "Teledentistry" category (case sensitive) to automatically include the smart section inviting patients to the waiting room.
Appointment time
At the appointment time, log in to you teledentistry providers website and select patients from the waiting room to commence their appointment.
Example video: Teledentistry.mkv
Smart sections
Teledentistry appointments are appointments that take place over the phone or video call. There is a new appointment category called 'Teledentistry' which you can assign to these appointments: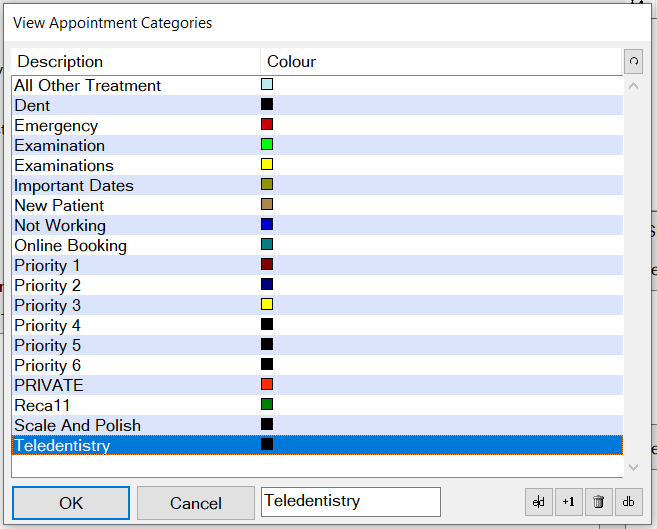 If you include a Teledentistry Smart Section in your reminder template, the content of the smart section will only be visible to patients who have an appointment with a category of 'Teledentistry'.
SMS – [Section.SMSTeledentistry]
Email – [Section.EmailTeledentistry]