Online Booking payments/deposits
Online Booking Payments allows your patients to pay deposits when booking appointments online.
This feature needs to be enabled & configured by the Software of Excellence team.
Payments are handled and processed by Stripe, this is where the patients payment initially goes when a patient pays a deposit online. After a maximum of 7 working days the money is processed into the nominated bank account that has been connected with Stripe.
Deposits should only be taken for private patients booking through online booking.
For NHS UK customers, NHS patients should not pay deposits for their treatment (NHS guidance).
Note: Currently deposits can not be taken for recalls or planned appointments booked online via links sent to patients.
When does a patient see a deposit is required?
The patient will see the value of the deposit when selecting the service they wish to book in for then again on the last screen after entering their details.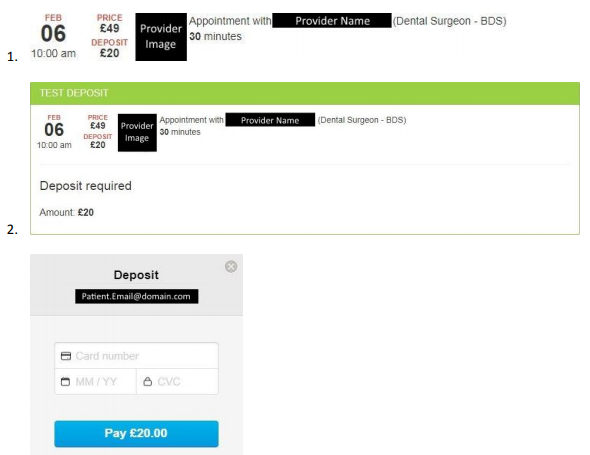 Monitoring your online deposits
Select the 'Payments' tab of your Stripe account.
A list of all the Online Deposits will be displayed with their status and the email address the customer used to book online.
The 'description' field will display a string of characters which is the unique authorisation ID for the payment.
Clicking on 'Balance' then on 'Transactions' will show how long until these payments arrive in the practice's bank account. This includes the deduction of the service fee which is 1.4% +20p of the value of the deposit.
These payments are also logged in EXACT. On a patients records click the '£' symbol and look for any payment with a payment method of .OLB in the Particulars column. Next to it will state the AuthID mentioned earlier.

These .OLB Online Deposits will also show on all the usual financial reports you use in Exact such as the 'Cashing Up' Report; they will be marked as .OLB payments.
Changing your prices/deposits
To change your practice deposits,
Go to Configure - Online Appointments - Web Setup.
Double click or select the 'booking reason' you need to change and click the e|d (edit) button.
Enter the new deposit values in their respective fields.
Once added, close all Online Booking windows to save changes.
Any changes to Online Booking will take approximately 5-10 minutes to register, after this time, refresh your Online Booking page you should see the updated prices/deposits.
Refunding Online Deposits
If an Online Deposit is past the date in which Stripe holds the money and it is already in the practice's bank then you would process the refund however you do so normally. You can check if the payment has gone into the practice's bank account by going to 'Balance' then 'Transactions', see above.
If the money is yet to transfer to the practice's bank account and resides in Stripe's holding account, then you can refund directly from Stripe. It is in your benefit to do this as you will not incur the 1.4% + 20p service fee.
In Stripe, go to the 'Payments' screen, hover your cursor over the payment then click the reverse arrow symbol, a menu will pop up allowing you to put the refund amount and choose a reason as to why the refund is needed. The patient will receive the refund within 5-10 working days.
Please note if you refunded through Stripe, EXACT has no way of recording this so you will need to process the refund for the patient in EXACT as well, processing refunds will guide you through this process.

Issues with Online Deposits
You may see payments that are logged in Stripe as 'Uncaptured' as a result of this but you can click on these payments and choose to 'Capture' (take the payment) or 'Release' (refund the payment) it is to your own discretion how you would like to handle it.
If everything is running fine with Online Booking and everything is being recorded correctly within EXACT but you are having issues with deposits on Stripe then it will be Stripe support you would need to contact as it is likely an issue with the Stripe account. You can reach out to Stripe support online.
Accessing Stripe
https://dashboard.stripe.com/login

Please note: Software of Excellence has no access to Stripe accounts. If you have had Online Deposits setup with us but cannot access your Stripe account, you will need to use the 'forgot my password' option on Stripe.


Stripe Support: https://support.stripe.com/