Online Booking configuring appointment reasons, services & providers
View on the web for the best view of this article
Adding Online Booking Providers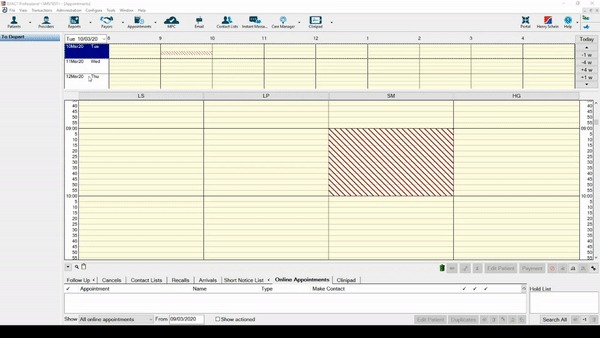 The above shows how to add a provider into the New Patient/Existing Patient types of Online Bookings.
These are for patients booking through the link on your website. As can you can see you need to set:
The default NHS and/or Private appointment length as well as the service code.
What clinic settings you want it to default to, the three options being:

'Specific Clinic' - meaning you can set a clinic that should be in the provider's diary for the online bookings to go in.
'All unbooked non-clinic time' - which would allow the Online Bookings to go in any open time that isn't zoned out with a clinic.
'All unbooked time' - This one allows the Online Bookings to go in any open time regardless if there are clinic zones there or not.

Lastly the confirmation templates you'd like to be sent automatically which sends when a patient books online.
There will more than likely be ones already created for email and SMS called 'OBAPPCON'.
Use the bin icon to remove providers, please note that at least one provider must be added to Online Booking for Patient Portal to work.
Configuring Online Booking Reasons/Services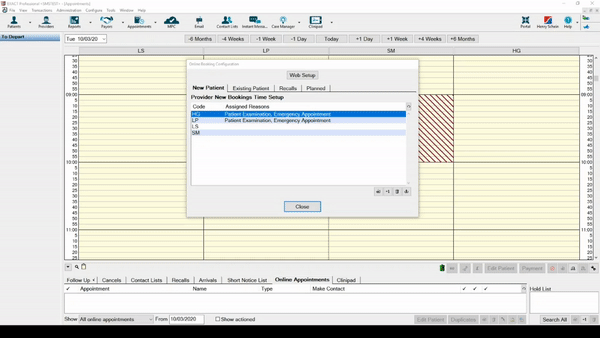 The web setup booking reasons/services are used for new/existing patients.
Planned and Recall online bookings are based on the planned treatment or regular recall service that the patient would have.
In the above example, a service is added using the +1 button (use the ED button to edit) for 'Oral Hygiene Visit'.
What you need to set for Online Booking reasons are:
The private price you'd like to display.
You don't need to set an NHS price here as the Online Booking page will always display the latest NHS fees under the NHS tab.
The deposit to be taken for the service. This is only for private appointments.

The providers you'd like available for it under 'Configure Providers'.
EXACT will then ask you if you want to add every provider, all dentists or all hygienists to it.
However, you can add, edit and remove providers instead of one by one if you prefer by clicking 'no' to this option.
For each provider, you can then amend the appointment lengths & service code, clinic settings and
confirmation templates if this needs to be adjusted for this Online Booking reason.