EXACT Workstation failed to connect to server or not launching
ALL Workstations are unable to log into EXACT
Check that your EXACT Server computer is switched on.
Open the services menu on the EXACT server and make sure that the SOE Supervisor Service is running

One/Some Workstation/s are unable to log into EXACT
If you see the above error, open File Explorer
Type in \\YOUEXACTSERVERNAME and press enter to navigate to this location. (see below)
(Change the name to your EXACT server's name)

If the below error appears you will need to speak with your IT as the computer cannot currently connect to the server. Once this connection issue has been re-established EXACT should launch as normal.

You may instead see a prompt to enter windows admin credentials. Enter these if known or contact your IT for the correct windows username & password to enter here. Tick "remember my credentials" to save it from asking again and causing issues in the future.
When you can successfully connect to the server you will see similar shared folders to the below image. This usually indicates everything is connecting fine and EXACT should launch and log in as normal.

Where a machine has previously connected to a different server you may need to update the file C:\ProgramData\SOEI\EXACT\login.ini on the computer so that the currentserver= and lastloginserver= lines say your current EXACT server name. Then launch EXACT again.

EXACT not launching after clicking on shortcut
1. Right-click your windows taskbar and launch Task Manager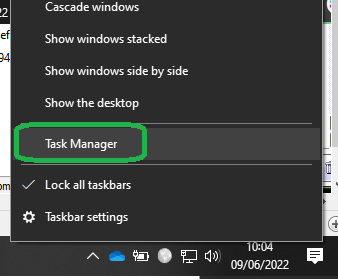 2. Locate "Dental (32 bit)" and left-click to highlight it, then click "End Task"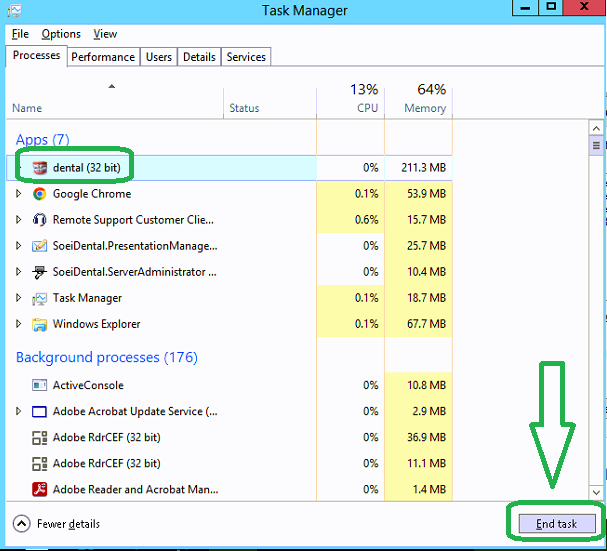 3. EXACT should now launch ok.
If you are using terminal services where multiple users are logged into one computer then see Launch Multiple Instances of EXACT instead as doing the above will kick other users out of EXACT.