For users with wider screens its possible to have the appointment book to permanently show on the right hand side of the screen. The functionality is basically the same as for the multi-column appointment book, with a few exceptions. Of necessity, the smaller available space means that the display has to be a bit different, and the functions and buttons are altered slightly.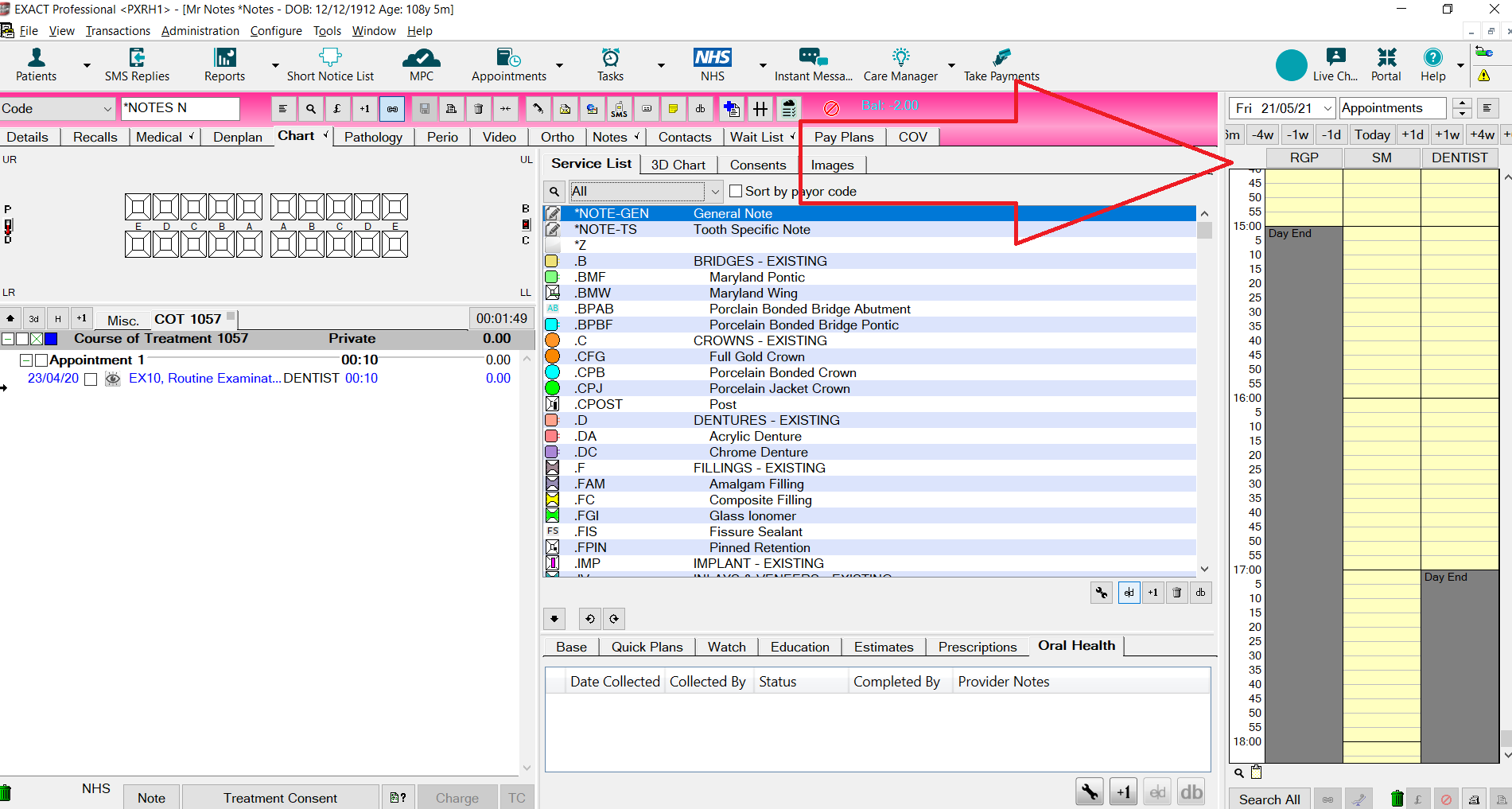 Activating/deactivating the Sidebar Appointment Book
To activate or deactivate the sidebar appointment book go to Configure->User Settings. In the bottom section under Appointments tick Display Sidebar. Click Save and the sidebar will appear/disappear instantly.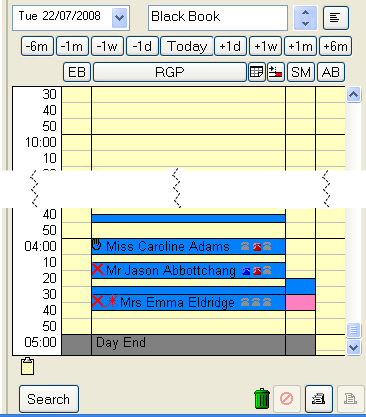 This appointment Book provides the following elements/options:

This shows the day and date of the currently displayed book(s).
Click the down button to select another day.

This field displays the current appointment book name. You can use either the up/down or the

button to select another book (or books) to display.

These buttons shift the appointment book display backwards (6 months, 1 month, 1 week, 1 day) or forwards (6 months, 1 month, 1 week, 1 day), relative to the currently displayed date. To return the display to today's appointments, with the book centred around the current time, click the Today button.

Each button represents an appointment book (when Multi-column appointment books are enabled). Click the button to make that appointment book the main focus and widen the column. In the example, the RGP appointment book has the focus.

Click this button to view the appointments for the current provider in month view (i.e., the whole month's appointments).

Click this button to open the Restrict Appointment Times window, to set Rotas, Blocks and Clinics.

The clipboard functions the same as in the usual appointment book - patient appointments can be temporarily dragged here pending assignment to a new 'slot'.

Although the hold list will not be displayed on this Appointment Book, the Search button allows you to search for appointment times for appointments on the clipboard. This button has the same functionality as the one on the standard Appointment Book.

Drag appointments to the 'bin' button to delete them.

Click this button to cancel the current patient appointment.

Click on this button to open the 'Print Appointment Book' window, from where you can print a list of the current appointments for the provider.

Click this button to print patient appointments for the current (or a selected) patient.