Add Patient Info To Images
TO ADD INFORMATION TO INDIVIDUAL IMAGES:
Double click the image you want the information on so that it opens into a viewport.

Right-click on the 'Tick' button in Examine Pro.

Select 'Patient Info' from the list. This will apply to the image currently in the viewport.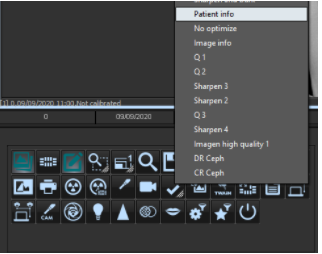 4. Press the save button. This will save this information on the image.

5. This will result in the Patient Number, Name and DOB showing on the bottom of the image.
HOW TO CHANGE THE INFORMATION DISPLAYED
You may require the patient name, DOB and Image date on the image instead of the above information to configure this follow the below steps.
1. Go to Options and select 'Setup'
2. In the Setup screen, scroll to the bottom and select 'Optimize'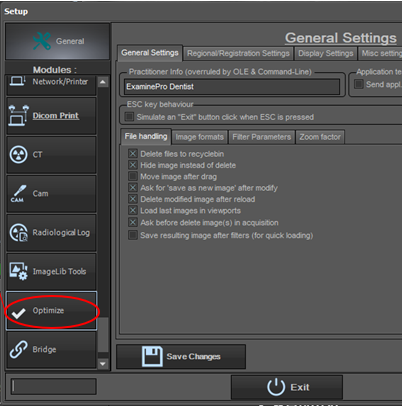 3. Use the arrow buttons to navigate through to the 'Patient info' tab

4. Double click on the highlighted text and then click 'Delete'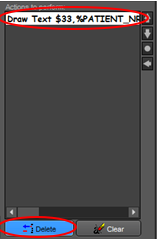 5. Copy/paste the below code, right-click in the Actions to perform field on the right of the Optimize module and Paste filter lines from the clipboard. (image below directing where you can right click and paste)
Draw Text $2F,%PATIENT_NAME% %PATIENT_BIRTHDATE% %IMAGE_DATE%,$0000005D,$00640007,$40000,$000000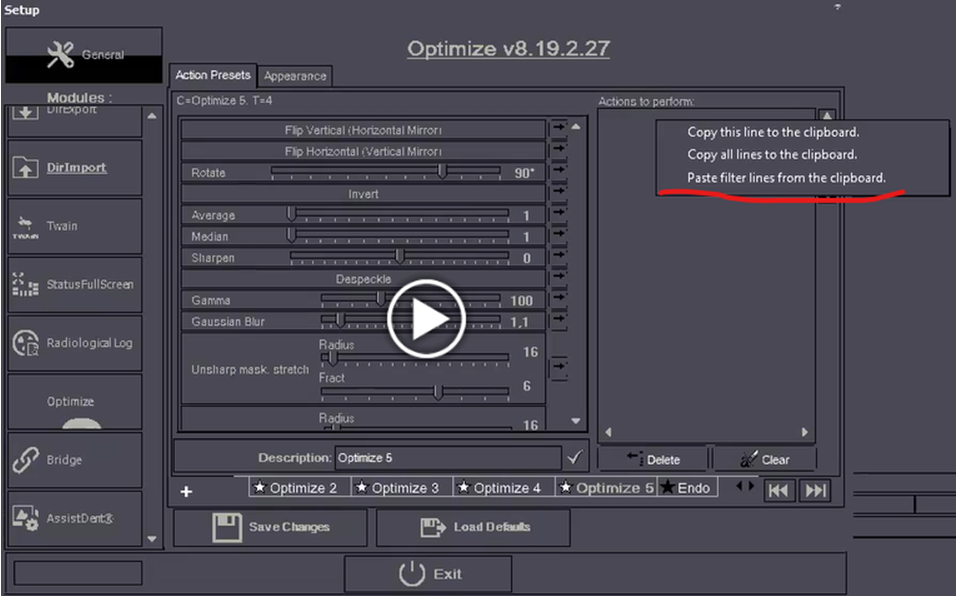 TO ADD INFORMATION TO ALL IMAGES AUTOMATICALLY:
This will add information to all images taken AFTER the preset has been activated
1. In the same setup screen, click on the Appearance tab

2. Select the device you are using from the list
Vistascan may display as ScanX
Carestream may display as Kodak/Trophy RVG
PSPIX may display as Acteon/Sopro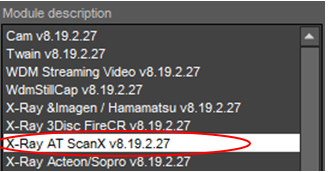 3. Using the drop-down, select 'Patient info' for every option in the device section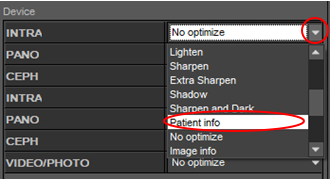 4. Select Save Changes and click OK on the prompt.
This will ensure that all of the images acquired from the PC with this preset enabled will have the information selected automatically applied to them.