Moving Images / X-rays Between Patients
If you have inadvertently saved an image to the incorrect patient you can move it to the correct patient via the EXAMINEPRO Global Folder function.
Step 1.
Select the 'incorrect' patient in Exact and click on the
EX
AMINE
PRO
icon.
Step 2.
In the Image Library, highlight the image you wish to move by clicking on it with a single left-click. You will notice the highlighted thumbnail will now have a darker grey border compared to the other images.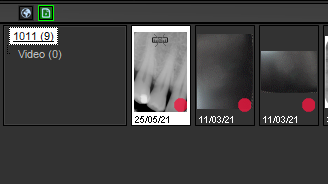 Step 3.
Once highlighted, right-click the image and you will be shown a submenu with several options. Select the 3rd option to 'Move selected image(s) to the Global Folder.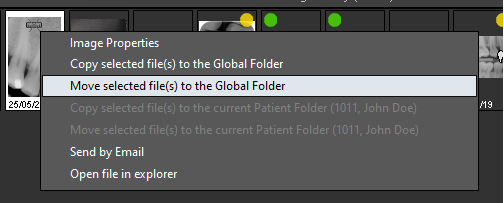 The image will now disappear from view. Press the Exit button to go back to EXACT.
TOP TIP: If you wish to move more than 1 image at the same time. Press and hold the 'Ctrl' button on your keyboard after highlighting the first image. You can now highlight as many images as desired before moving.
Step 4.
With the image(s) now moved to the Global Folder, select the patient record you wish to move the images to and go back into
EX
AMINE
PRO
.
Step 5.
Click on the Globe Icon as highlighted below. You will now be taken from the Patients local Image folder to the Global Folder.

In here you will see your recently moved images.
Step 6.
In order to move them from the Global Folder to the Patients, highlight again with a single left-click. Then right-click and you will be greeted by the same submenu as earlier.

Choose the last option, 'Move selected image(s) to the current Patient Folder….'. As before, the image(s) will disappear from view.
T
o
go back into the Patient Image library, simply click on the Paper icon next to the globe.
If you exit back to EXACT
,
you will now see the correct images under the correct patient record.