Determining The Greyscale Values Of Images Within Examine Pro
In order to determine the greyscale value of an image within Examine Pro, you must use the
following procedure:
1. Double-click your test image so it is loaded into a viewport.
2. Once the image is loaded, click the "Annotations" icon to bring up the annotations window (as shown to
the right).
3. Click the option for "Rectangle" which is usually under the "Measure" tab.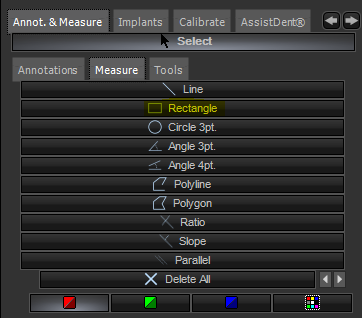 4. Click and drag a rectangle on a section of the test image
5. Once the rectangle has been drawn on the test image, click and select the rectangle.
6. Within the annotations window, select the "Tools" tab.

7. Under the "Tools" tab click the button for "Calculate
Average Grey Value".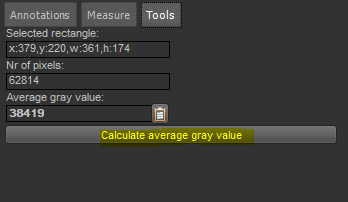 8. The greyscale value will appear within the "Average Gray
Value" box above the "Calculate Average Grey Value"
button.
9. This value will be in a 16-bit format therefore the value
will range from 0 – 65535.