Single Column Appointment Book
Single Column appointment shows you appointments for a single provider. We advise using the Multi Column Appointment Book which will provide more features and functions to manage your appointments.
To open a Single Column Appointment Book select File > Appointments > Single Column Appointment Book:
You will now need to select a provider in top left. You can change the selected provider at any time.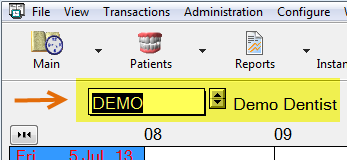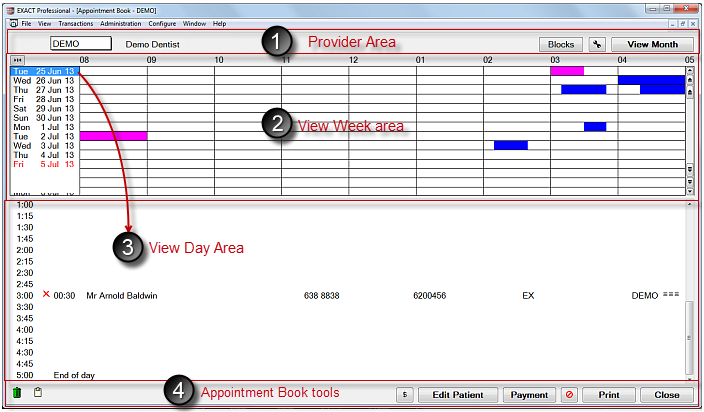 The single-column appointment book window is divided into 'View Week' and 'View Day' areas. Different staff within the practice may prefer to see more or less of either of these areas.
Between these two sections is an area (the 'frame border') that can be selected and dragged with the mouse cursor to increase or decrease the relative sizes of these two areas.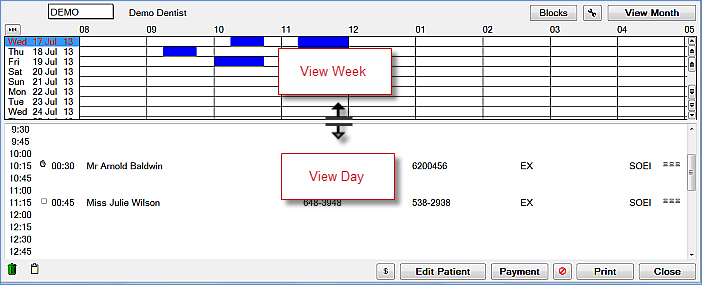 To resize areas of the Single Column Appointment Book Display
Place your mouse pointer anywhere along the grey frame between the two areas. When the mouse pointer changes from the arrow to the black double arrows hold the left click down and drag to resize.
Week Area
The View Week area displays several days of appointments using colour to show available time, blocked time and booked appointments for the selected provider. Different Colours can be used to represent treatments.
Each row is divided into hour blocks by the columns, and represents the appointments. Clicking on a Day/Time will move the View Day area below, to display the appointments for that day. The currently selected day will be highlighted in blue.
Appointments and Blocks are represented by a coloured area representing the length of the Appointment or Block. These blocks can be colour-coded. For example:
Booked appointments (colour coded by appointment category).
Yellow for Examinations

Red for Root Canal Treatment
Blocked Time
Grey for blocked out time (i.e. the provider is not available to provide treatment to patients.)

Blue for available appointment time.
Double-bookings and Failed Appointments
Green for double-bookings (only green for the overlapped time).

Pink for failed appointments (appointments failed today will turn pink tomorrow).
Day Area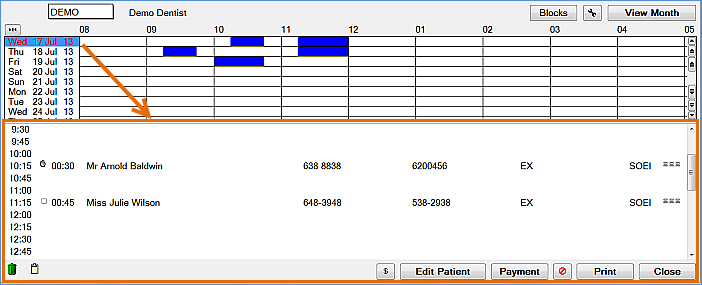 The View Day area displays the appointments for the selected provider for the selected day. It includes information such as the name of the patient, their contact phone numbers and what treatment they have come in for.
Also shown on the appointment are the appointment status, and icons to show the status of any contacts made with the patient by telephone, SMS and email.
To edit an appointment that is displayed in the Single Column Appointment Book double-click the appointment time to display the Edit Appointment window.