Transactions, Payments and Refunds
Payments, refunds, adjustments, opening balances, resubmissions, allocations, statements, balance transfers and account write-offs are all processed in the transactions window.
With a patient file open, navigate to the monetry symbol (£, $ or € depending on your region).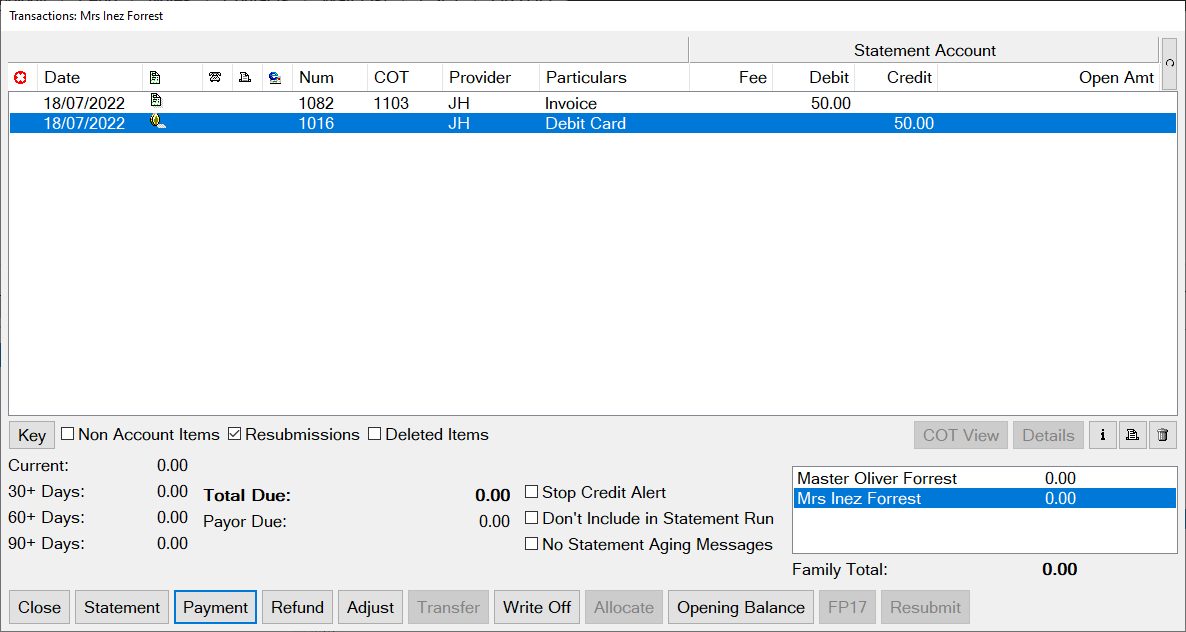 To find out what each option in the transaction screen does, read on or skip to the area you wish you learn more about.
Statement
This option provides the ability to print or email a patients statement. You can add all transactions or selected ones to display the desired information.
Read more about creating patient statements here.
Payment
This option provides the ability to process payments onto a patients account.
Read more about processing payments here.
Refund
The ability to return money to a patient is actioned using the refund option.
Read more about processing refunds here.
Adjust
Adjustments to patient transactions (refunds/invoices) can be actioned via the adjust option. Commonly used when an account correction is required.
Read more about adjusting patient transactions here.
Transfer
It is possible to transfer an open amount or invoice to another patient using the transfer option. Often used when one patient is paying for their families treatment.
Read more about transferring patient payments and transactions here.
Write Off
The write off option is to be used when a patient balance needs to be cleared.
Read more about patient write offs here.
Allocate (Allocations)
The option to correct or change the allocation between a payment and invoice is possible using the allocate option.
Read more about adjusting allocations here.
Opening Balance
Adding a balance to a patient account or an opening balance can be actioned using the opening balance option.
Read more about adding opening balances here.
FP17 (NHS practices only)
This option provides the ability to view FP17 form information relating to an NHS invoice.
Read more about the NHS FP17 form here.
Resubmit (Resubmitting a Course of Treatment)
The option to open a charged course of treatment (cot) can be completed using the resubmit option. This will allow the editing of a previously completed cot.
Read more about editing charged treatment/resubmitting here.