Enabling Hyperlinks Security Setting
EXACT gives you the choice to allow whether practice users can click hyperlinks received via your email inbox. Computers viruses can accidently be downloaded by clicking on a hyperlink so this setting allows you to manage who can use hyperlinks.
Email hyperlinks can be enabled per security group, so the practice needs to consider which security groups are to be allowed hyperlinks.
Hyperlinked .PNG files in Emails may not function correctly, so where possible use .JPG files for graphical hyperlinks.
Select Configure > Security.
Select a Security Group (Code).
In the checkbox-tree locate [-] File - [-] Email - [ ] Enable Hyperlinks.
Check (tick) the [ ] Enable Hyperlinks checkbox. For example, for the DENTIST security group: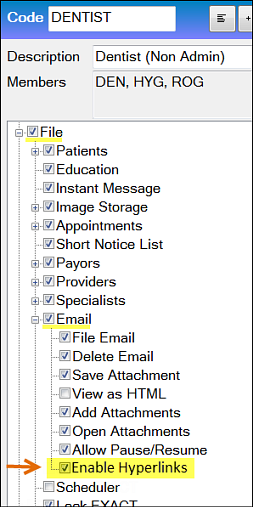 Click the Save button.
Restart EXACT.