Dental Referrals troubleshooting
If you are experiencing issues with your Dental Referrals (DR) connection, the following information may help to resolve the problem.
Tip: A common factor of Dental Referrals not launching is anti-virus software.
For example, when using Avast, you will need to disable HTTPS scanning as this setting prevents the opening of the Dental Referrals website from the link inside EXACT. If you are unsure how to disable this, please contact your IT support/anti-virus software provider.
DR not working on one computer
If the button is displaying "DR" instead of the tooth icon then confirm it's 100% one machine before reinstalling on the machine.
Check the date/time of the computer are correct (check the server as well).
Check that affected patient/s do not have spaces or strange characters in the their name are known to fail and require a temporary workaround of removing the space.
Confirm the API key is right, compare with the email the practice has received from Dental Referrals or from a machine that already works.
dentalrefauthtoken.cfg in C:\Dreferrals shows the API key. You can open it with Notepad.
Check if any antivirus has quarantined or detected Dental Referrals as a cause for concern.
If you can see errors relating to a certificate or web page being blocked it will could be antivirus software.
Launch Command Promt in Windows then type CMD cd\dreferrals drlaunch. This will manually try and launch the application.
Log out then back into EXACT before testing the button again.
Ensure you have the latest Dental Referrals installed using the most recent certificates as noted in Dental Referrals Certificate Update Oct 2021
DR not working on all computers
Check date/time on server is correct and that all SOE services running ok. Restart Transport if date/time was wrong and log out and back into Exact after a few mins to test.
Turn Genuine server check on (setting "internal.genuine server check.enabled" = 1) and restart transport to confirm database and register their DB with our Triton servers and then log out and back into Exact and try again.
Confirm the API key is right, compare with their email from Dental Referrals.
Operating System out of memory or resources (during Dental Referrals install)
Resolution 1
This is caused by running 64bit on a 32bit Computer. Use the installer in the Dental Referrals Installation help article.
This will need to be run on each machine separately.
Please Note: You can install the 32bit version of the software on a 64Bit machine.
Resolution 2
Please Note: This resolution is to be performed by an EXACT support team member.
Remove the Product licence.
Add the Product license again.
Ensuring the path is correct and the Product licence returns TRUE on the vaildation.
Test Dental referrals.
License Checks Out of Date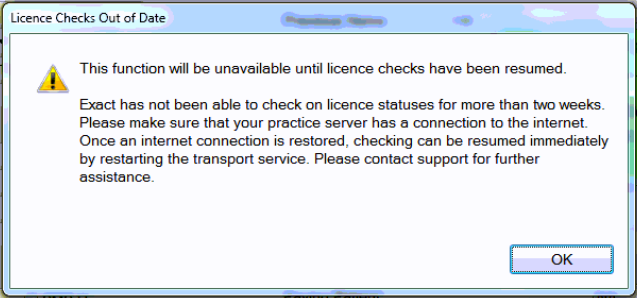 Restart the EXACT Framework and Transport services, testing this again after several minutes.
On the server computer locate the services via the Database Service - Stop both the Framework and Transport services, then start one until that has a tick inside the green circle then the second.
Test Dental referrals.
Unable to Start c:\DReferrals\wscript
Reinstall on affected machine/s (Dental Referrals Installation)
Contact details for Dental Referrals
Email: d.referrals@nhs.net
Dental Referral Management Centre
6 The Offices
Stannian Fold
Pool Lane
Lymm
Warrington
WA13 9AB