When selecting Scan on the Contacts tab an error appears on screen such as that below there are a few steps we advise trying before contacting the Support Team or your IT Support.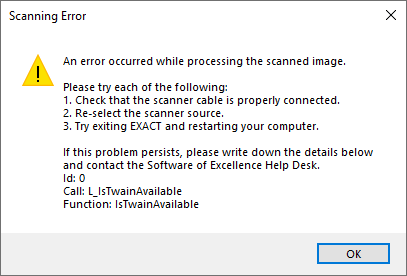 Check the device is available
Next to the Scan button is a Source button, select this and check a window with available scanners displays, if this window also shows the above error, please contact your IT Support as no scanners are installed.
If this window appears, check the scanner you are trying to use is listed, if it is not listed, please contact your IT Support as the scanner is not installed. If the scanner is displayed but not selected in blue, select this and try scanning again.
Testing
If the scan fails or the scanner was already highlighted please open Microsoft Paint on your computer and attempt to scan, if MS Paint fails to scan there is an issue with the driver installed that operates the scanner, if this is the case, please contact your IT Support to resolve the issue. If you can scan in MS Paint please contact our support team for further assistance.