If an error appears on screen when selecting Scan on the Contacts tab there are a few steps we advise trying before contacting the Support Team or your IT Support.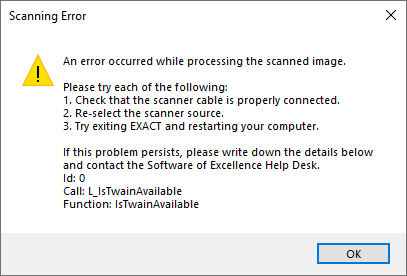 Check the device is available
Next to the Scan button is a Source button, select this and check a window with available scanners displays, if this window also shows the error, please contact your IT Support as no scanners are installed.
If this window appears, check the scanner you are trying to use is listed, if it is not listed, please contact your IT Support as the scanner is not installed.
If the scanner is displayed but not selected in blue, select this and try scanning again.
Testing
If the scan fails or the scanner was already highlighted please try the following steps.
Open Windows Fax and Scan and perform a scan (search fax and scan via the magnifying glass in Windows on your computer).
If the scan fails there is an issue with the installed driver that operates the scanner, if this is the case, please contact your IT Support to resolve the issue.

If you can scan in Windows Fax and Scan the second step is to test scanning functionality in Microsoft Paint.


Open MS Paint (search Windows for this) and perform a scan.

If you are unable to scan in MS Paint, please contact your IT Support to resolve the issue.
If you are able to scan, please contact the EXACT support team.
Scanned/Imported contacts not saving
Restart the SOE Framework and Transport services on your server computer then try to import/scan again.
If you're unsure how to do this, please contact the EXACT support team.
GDI Error when scanning
If you are receiving an error when saving the image, referring to a GDI error, you can make some adjustments to reduce the image quality. This usually occurs when a very high quality setting is configured, usually photo image quality, which is much higher than required for documents.
Open the printer/scanner settings.
Lower the DPI setting and try to scan again, for example, trying changing 300 DPI to 150 DPI.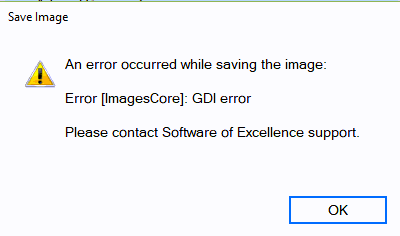 Keyscan scanner
Keyscan Scanner not working in exact, can see the scanner driver but this shows error (Keyscan cannot be tested in windows like normal scanners).
Open up Keyscan application.
Disable auto scan feature.
Go to settings then disable cropping.